You asked, and I answered — the official Keto For Dummies post is here! Ever since I started documenting my Keto lifestyle change on Instagram, I've had a number of people reach out to me with questions about the Ketogenic Diet, how I'm eating, and my workouts. It was then that I realized I didn't have any content on my blog about how to do the ketogenic diet or how it works. It's because of those people that I gained the inspiration to write this Keto for Dummies post. Hopefully, this post can provide you with a little information on the ketogenic diet and help you understand it.
What is Keto?
Keto is the short form of the word Ketogenic Diet. Before you get all "this is too hard to understand I don't know what the heck this is, I'm out, not for me" let me explain. It's really simple. The Ketogenic Diet is a Very Low Carb, Moderate Protein, and High-Fat diet. That's it.
Nutritional Ketosis is a natural metabolic process. When your body does not have enough glucose (sugar – which are carbs) to burn for energy, it switches to another fuel source — ketones. Ketones are produced from the breakdown of fats in the liver. When your body is in a state of ketosis, it becomes very efficient at burning fat.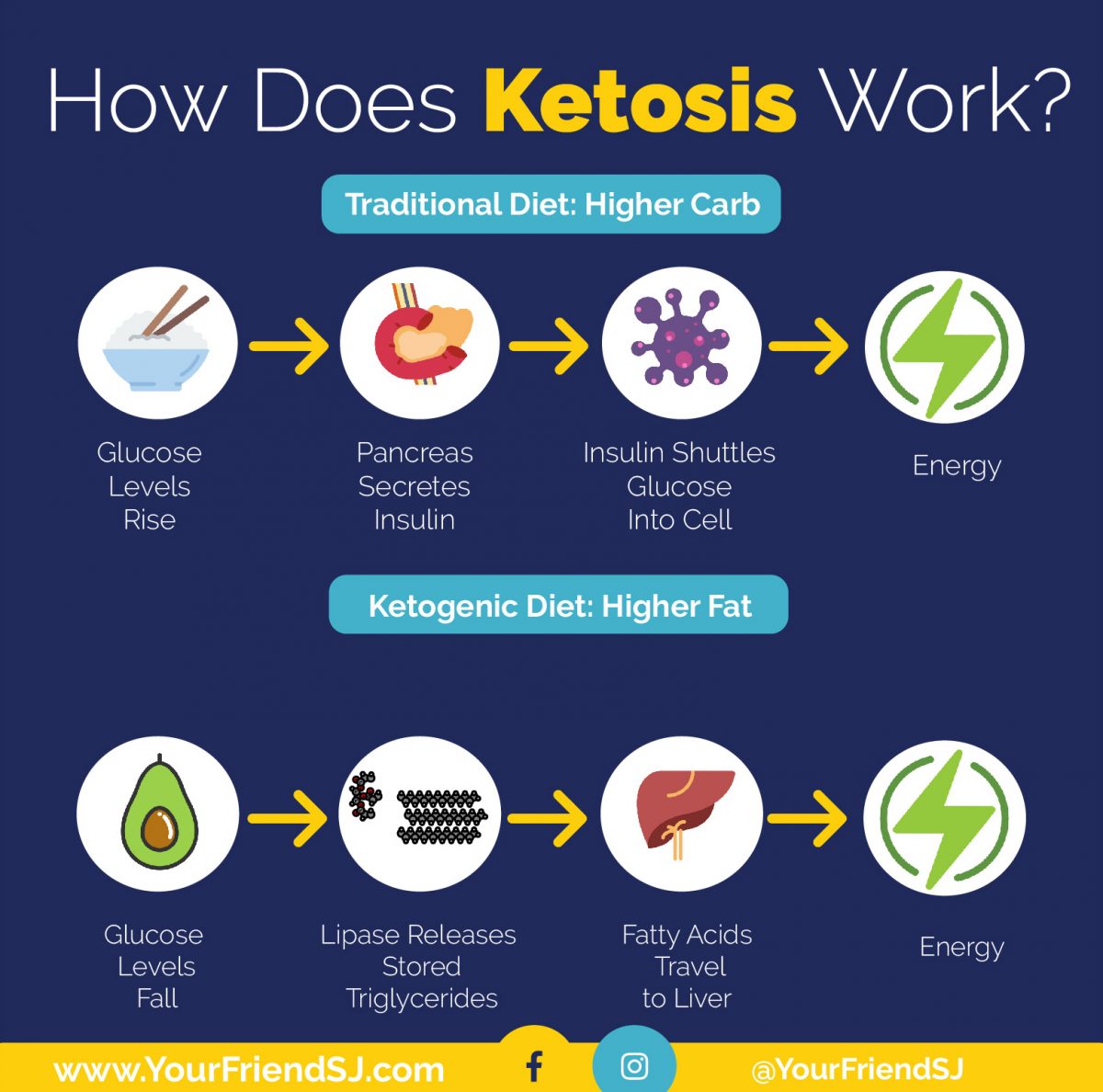 When you're in ketosis, your insulin (the hormone which is responsible for storing fat) levels become very low, and fat burning increases dramatically. You can also get into a state of ketosis by fasting.
So basically, ketosis is the state of burning fat for energy instead of glucose. This is accomplished by changing your diet from a primarily high carb, low-fat diet (which is often referred to as the Standard American Diet aka SAD) to a Very Low Carb, Moderate Protein, High-Fat diet.
What are the Benefits of Keto?
Decrease Inflammation
Reverse Insulin Resistance
Reverse Diabetes (Type-2)
How to Get Started
Okay, so how can you get started? I'll put it in the simplest terms since this is Keto for Dummies, and the more complicated things can come later.
1) Calculate your Keto Macros
The "recommended" macros on a SAD is different from the macros of a ketogenic diet. You can calculate your keto macros based on your weight, goals, and activity level here on the Keto Gains website. This will give you an idea of how many carbs, how much protein, and how much fat you need to include in your diet to reach your goals. For most people, you'll want to keep your net carbs under 20 grams per day to be in ketosis.
2)Lower your Carbohydrate Intake
The main component of the ketogenic diet is the low carb. You're not allowed to eat sugar. No carbs. No Bread. You can't have Pasta. No Fruit (only berries). No Juice, Pop, Energy Drinks, Candy, Rice, Sweet Potato, Tortillas, Cupcakes, Noodles, or Cookies. You can do this gradually by cutting out processed sugars, then grains, but they must be cut out. Completely.
This way of eating cannot be done half-heartedly or else you won't see the results, especially at the beginning. This is the point in time where you need to kick your sugar addiction and get used to eating real, whole foods again. After doing so, begin to increase your healthy fat intake.
3) Get Your Electrolytes In
Electrolytes are not optional in this way of eating. You need to consume electrolytes religiously with this way of eating. They are essential to avoiding the keto flu and feeling good on this diet. You have to track them just as you would regular macros! A way to get electrolytes in is with bone broth, avocados, and sea salt.
4) Drink Water
Just like every other way of eating water is important on a ketogenic diet. You need to stay hydrated and drink the recommended 8 glasses of water a day. Drinking water helps you to metabolize fat faster on this way of eating as well as curb cravings. Drinking the right amount of water can also aid in suppressing appetite and puts less stress on your kidneys. You don't need a keto for dummies post to highlight the importance of drinking water.
High Fat? What about Heart Disease?
No, a ketogenic diet does not make you more susceptible to heart disease, or high cholesterol. It's actually quite the opposite. A diet high in carbohydrates (sugar) is the cause of heart disease, not fat.
In fact, the ketogenic diet is fact proven to have benefits against diabetes, epilepsy, cancer, and even Alzheimers (oh you thought I wouldn't bring that science?😏 ) If you'd like a more in-depth scientific post let me know in the comments. This is Keto For Dummies so I'd like to keep it as simple as possible.
Hopefully, I've managed to cover all the main aspects of a ketogenic diet, however, if you still have any questions feel free to leave a comment down below and I'll do my best to get back to you in a timely manner.
If you do choose to do Keto, I wish you all the best, and I hope it can do what it has done for me — change my life.
—
I am a licenced nothing. Meaning I'm not a doctor, dietician, or nutritionist. The information, including but not limited to, text, graphics, images and other material, contained on this website is for educational purposes only. The content is not intended in any way as a substitute for professional medical advice, diagnosis or treatment. Always seek the advice of your physician or other qualified health care provider with any questions you may have regarding a medical condition or treatment and before undertaking a new health care regimen, and never disregard professional medical advice or delay in seeking it because of something you have read on this website.